News
---
Customer Satisfaction Questionnaire 2017 - And the winner is...
31 August 2017
Last updated at 13:55
Each year we ask you to complete a Customer Satisfaction Questionnaire, giving us feedback on our service and insight into where we can further support you. This year's survey came to a close on the 5th August and we'll shortly be announcing some key highlights and statistics.
Asking questions ranging from satisfaction with customer care to what you'd like to see more of in terms of our communications, each and every reponse is important to us and we really appreciate our customers taking the time out of their busy schedules to give us their feedback. As an added bonus and a thank you for your time every response we receive automatically goes into a prize draw, where this year entrants were given the chance to win a £250 Shopping Voucher!
Out of hundreds of responses, an entry was chosen at random and we can now reveal that the lucky winner is Bethan Howells of Heather Philip Licensed Conveyancing in Leicester! Bethan is a Conveyancing Executive and has been in her current post for 5 years.
Vijay and Ushi Sanghani of PSG Leicester and Coventry were on hand to deliver the news and the all important prize. Bethan had this to say "It was such a surprise to hear that I'd won, it made my day. I am so excited for my guilt free shopping spree!"
We'd like to congratulate Bethan on her prize and wish her a very happy shopping trip! Thanks also go to everyone who completed our Survey, watch this space for the results!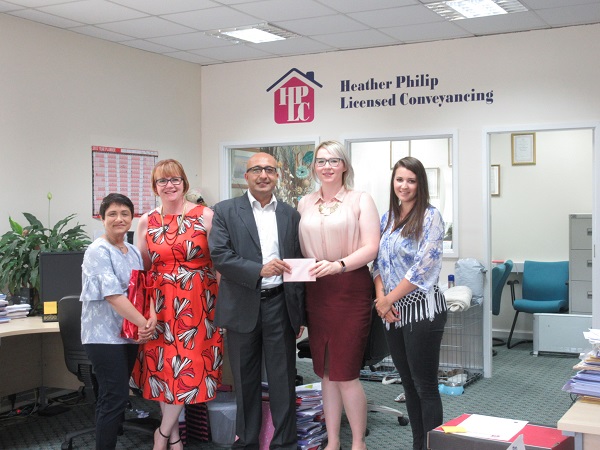 Ushi (L) and Vijay Sanghani (Centre) of PSG Leicester and Coventry, present Bethan with her prize!
More News