News
---
Introducing Avista - the new all-in-one search report from Groundsure
26 May 2017
Last updated at 15:01
We are delighted to introduce the brand new, all-in-one residential environmental report from Groundsure.
Availble to order from 6th June, Avista offers seven key searches, intelligently filtered to produce the clearest and most comprehensive risk report on the market.
The report is designed to be easy to read and it's clearly sectioned approach makes it simple to find the information you need, including vital next steps.
Avista takes environmental reporting to the next level by filtering data sets to ensure that only the relevant results are returned.
The report includes
Contaminated Land
Flood Risk
Ground Stability
Radon
Transport
Energy
Planning Applications
The Key Benefits
Seven environmental searches covering the key residential property purchases risks, including 10 years of planning applications
Based on Land Registry polygon data for the highest level of accuracy: 106 million data points analysed to produce the most comprehensive risk report on the market ​​

​

Clear and concise explanations of the findings, with helpful next steps provided by the intelligent Avista Action Alert to help prioritise follow up work
Transparent information and plain English explanations make it easy for homebuyers and professionals alike - delivering better property decisions and faster transactions ​

​

Average report is less than 20 pages, combined with intuitive design, makes it simple to hone in on what's important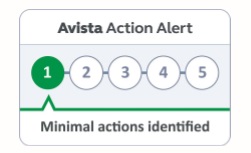 A new level of clarity - The Avista Action Alert
The Avista Action Alert saves transaction time and trouble by providing a simple visual guide to the complexity of the environmental factors associated with a property and the likely impact any further steps will have on a transaction's progress, helping you prioritise work at a glance.
This unique feature, part of Groundsure's new IQ platform, allows you to easily identify if a transaction requires more detailed attention and/or financial investments, and plan accordingly. It presents easy to follow 'next step' strategies, whatever the outcome of the report.
---
Dan Montagnani, Managing Director at Groundsure says: "As a business, we are continually striving for ways to provide smarter solutions to property professionals and their clients. Our customer-first approach has allowed us to develop a product that delivers clear, concise and accurate data that makes it easy for our customers to make better property decisions. We are committed to innovation and improvement in environmental search reports which is why we are thrilled to launch Avista. Not only will it save conveyancers considerable amounts of time, it reduces risks for all parties involved in the purchase of a property."
More News